Officials
WHO ARE THESE GUYS ??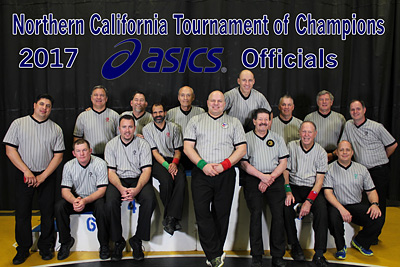 They are the most experienced and hard working officials available and that's why they are refereeing the TOC. In the early years of the TOC, high school wrestlers were the referees. Of course those were the days when kid wrestlers wore jeans and tennis shoes while competing on the mat. As the wrestlers moved into singlets, kneepads, headgear and fancy shoes the TOC had to keep pace by hiring the best officials we could find.
The referees we now have in the tournament have worked the California and Nevada High School State tournaments, college matches and tournaments and most have been working the TOC for many years as well. They know wrestling and the rules inside and out, keep abreast of the latest rule interpretations, have knowledge of junior high kids and there tendencies and , most of all, know how to protect the kids from injury. They are all professional and serious about doing a quality job on each match.
---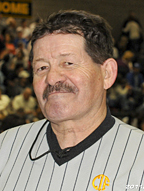 RON MARQUEZ
Originally from Fresno, Ron has been a wrestling referee for over 30 years. Ron's knowledge of the sport and the rule book is unmatched. He is a leader in the Northern California Officials Association and lives in Sacramento and just recently retired from the Calif. Tax Franchise Board. Ron is active in rule interpretations, training and rating of officials, and has refereed the California State HS tournament several times. He is generally acknowledged as one of the top officials in the Sac Joaquin Section and in all of California. He serves as our Head Official at the TOC. Ron was elected into the California Wrestling Hall of Fame in 2009 as a Lifetime Service Award recipient.
---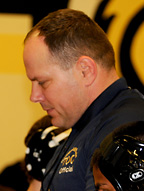 CODY OLSON
With Cody on the mat you will have to wrestle hard or you will be hit with stalling right away. Decisive and very consistent in his calls, Cody is a top level collegiate and high school official. Cody was selected to officiate at the NCAA tournament in 2005, 2006, 2012 and refereed in the NCAA East Regional tournament and PAC 10 finals several times. He has also officiated many PAC 10 matches in recent years and the California high school state meet. Cody is a former Nevada state high school champion and was a California high school state runner up in 1984 at Bella Vista High School. Cody and wife, Kristin own Olson Insurance in Rocklin.
---
DAVE BRANSTETTER

The 2016-17 season was Dave's final as a wrestling official. After doing 30 plus years on the mat at middle school, high school AND College level he is going fishing ! We appreciate his many years of outstanding work at TOC.
---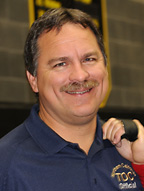 MARK HERNANDEZ
Mark lives in Chico and works in the corporate accounting field. Having officiated since 1998, Mark has been chosen numerous times to represent the North Section at the California high school state tournament. His wrestling career goes from Aptos JH, Watsonville HS where he was a state competitor, then to Cabrillo Community College and finally 2 years at Chico State where he competed in the Division II nationals. He has a very calm demeanor on the mat and relates well with the athletes, coaches and parents. His calls are decisive and his judgment is considered excellent by coaches and fellow officials. He has officiated at the TOC for the past 9 years.
---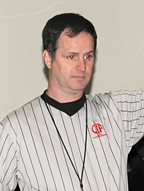 KEN GAUDREAU
A former California high school state champion and 1984 graduate for Bella Vista, he also wrestled at Columbia University in New York. Ken has risen quickly to the top of the officiating ladder. Extremely knowledgeable about the sport, Ken's calls are decisive and consistent. He has a lot of energy on the mat and is always in good position. He was chosen to ref the state high school tournament for the first time in his career in 2003 and has been invited back several times since then being ranked in the top 10 of the state tournament several times. Ken is also an accomplished collegiate official.
---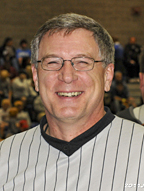 LES RASMUSSEN
Les is from Reno and has been a permanent fixture at the TOC and in all the Nevada top tournaments for many years. Les has great command of a match. You rarely see coaches argue with his calls as he is always active, in the correct position and has great officiating mechanics. He is very experienced around junior high kids and anticipates extremely well. A very popular official, Les is consistently invited to attend top tournaments in several western states. His two sons were outstanding high school and college wrestlers.
Although Les has announced his retirement from wrestling officiating, he has stated he loves refereeing the TOC so much he may return to us in 2018. One of the best ever. Please come back, Les!
---
TONY TRABUCCO
A former All-American wrestler at Chico State, Tony lives and works in Sacramento and is a very experienced official. He has worked the college circuit for many years in California and was a top high school official in the Sac Joaquin Section and Sacramento area before choosing to move his officiating to the North Section He has been chosen several times to work the California state high school tournament as well as the Community College State tournament. Tony has great skill in his positioning, correctness and consistency in his calls.
---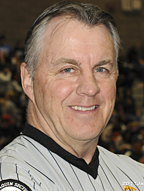 DAVE BRANSTETTER
Originally from Hueneme HS and a former Ventura Junior College MVP and Sacramento State wrestler, Dave is a retired teacher and former wrestling coach at Roseville High School (17 yrs). Once he gave up coaching to become an official 19 years ago it quickly became apparent that he would be a premier official in the Sac-Joaquin Section. Dave has officiated at all of the top tournaments in Northern California and Reno and also officiates community college matches in the fall. He has outstanding judgment and mechanics on the mat. Dave was selected to officiate at the California high school state meet in 2007 and was back there again in 2010 and 2011. Dave's brother and California wrestling HOF member, Wayne, is the outstanding coach of the perennial California high school powerhouse Poway HS in the San Diego area.
---
STEVE ROMAN
Another veteran official, Steve has also coached at several high school programs in the Sacramento area. He had officiated quite a bit of freestyle before joining the high school officiating ranks and now is recognized as one of the better officials in the state. Since moving to San Diego a few years ago, Steve has been chosen to referee the California HS state meet from both the Sac-Joaquin and San Diego Sections. He moves to position quickly and is a very conscientious official with great focus on each match. Steve, wife Michele and daughter, Samantha return yearly from their home in San Diego to work the TOC.
---
SCOTT WARDEN
Scott is a now a veteran referee in the Sacramento and Foothills area. A former Ponderosa HS wrestler from 1987-91, Scott was a section place winner and state qualifier in 1991. He wrestled at Sac City in the early 90s before having coaching stints at El Dorado HS, Bear River HS, Golden Sierra HS and Vista del Lago HS. He has been refereeing wrestling since 1998 and has done the Sierra Nevada Classic and Foothill Asics classic in addition to several section tournaments and the TOC for the past several years. Scott is active on the mat and is a rules aficionado who makes consistent and accurate calls. He works as an English teacher in Sacramento.
---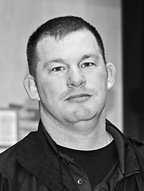 SCOTT SELTER
No longer just an up and coming official in the Sacramento area, Scott was chosen for the California high school state meet in 2009 has returned every year since due to his skill ranking in the state tournament. Scott is a former wrestler and coach at Lincoln High School (Lincoln, CA). An outstanding wrestler and very successful coach, Scott quickly transferred those skills into his officiating. In just a few years of officiating Scott has become a top quality high school official who is approachable on the mat and recognized for his good positioning, calm demeanor and accurate calls. Scott just moved to Elko, Nevada with his wife and kids where he works for UPS.
---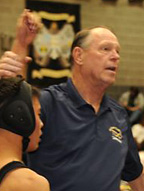 LARRY FLETCHER
Larry was a basketball player in high school and college (Chico State) and is a retired teacher at Bella Vista HS in Sacramento where he coached football, track and golf. While working alongside the legendary wrestling coach Charlie Lee at BV, he became a wrestling official some 40 years ago and has been an outstanding wrestling ref working many high level tournaments in the Northern California area including the Junior College Nor Cal Regional and the Division II nationals at UC Davis. Larry is our assigner of officials in the Sacramento and Foothills area and is also an official body fat checker for the Sac Joaquin Section. Larry was inducted into the California Wrestling Hall of Fame in 2009 as a Lifetime Service Award recipient.
---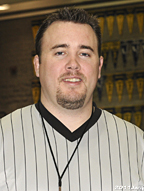 WILLY FALVEY
A 1998 graduate of Woodland HS where he was a Sac Joaquin Section champion and placed 6th in the state meet his senior year and also an All American at Menlo College. He also was an Academic All American while at Menlo. He lives with his wife and 4 children in Fair Oaks and works in the sales department for KXTV News 10 in Sacramento. Starting his officiating career in 2004, Will is already a state level official having referred many divisional, Sac Joaquin Masters tournaments and just recently was selected for the C
---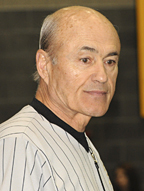 MONTY MULLER
Anybody who has been around California wrestling in the past 35 years knows Monty Muller. Monty was a long time very successful, respected and well liked school administrator in the San Juan School District (Sacramento) for over 30 years. Monty was an outstanding wrestler at both American River College and San Francisco State but his fame is in the world of officiating. For most of his wrestling officiating career Monty has been recognized as THE top official in the state of California. He retired from high school officiating a few years ago but still does "selective" tournaments (including the TOC since 2011), is a top college level official and serves as the lead official at the Sac Joaquin Section and California State tournaments. He was an early inductee into the California Wrestling Hall of Fame and currently serves on the HOF selection committee.
---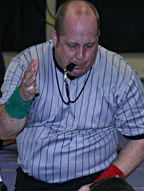 MATT WINN
Matt has been a teacher, coach, Athletic Director and school administrator in the Elk Grove School District for many years now. He was the wrestling coach at Franklin HS when the school first opened and then moved over to newly opened Consumnes Oaks HS to be Athletic Director before currently serving as Assistant Principal. After moving into administration it was difficult to coach so Matt switched over to being a wrestling official to stay connected and involved in wrestling. That was a great benefit to the wrestling community as Matt made an immediate impact as an outstanding referee. He commands tremendous respect for his even temperament, sense of humor and accurate judgment calls on the mat. He recently was selected to officiate in the California HS state wrestling tournament.
---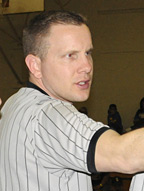 BROCK BROWN
A truck driver by trade, Brock wrestled in the Bay Area and has been a top official in the Sac Joaquin Section for the past 13 years. He is precise and accurate in his calls, has great presence and mechanics in officiating and seems never to be out of position. Even this early in his career he has caught the eye of the wrestling community as he has already been selected 4 times as a California High School State tournament official.
---