Northern California Tournament of Champions Coaching Award
In an effort to recognize outstanding middle school coaches and their contributions to the youth and wrestling of Northern California, the TOC Coaching Award was established in 2011. Coaches are recognized for developing and leading successful middle school wrestling programs, unselfish contributions to the wrestling community and coaching leadership that demonstrates integrity, ethical behavior and sportsmanship that makes them a positive role model for student athletes..
2013 Coaches Award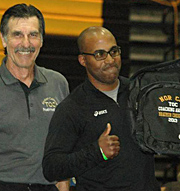 BRAUMON CREIGHTON
Braumon is Physical Education teacher at Jane L Stanford Middle School and runs the Creighton School of Wrestling in Palo Alto. Under Coach Creighton's leadership the JLS wrestling team has been league champions three years in a row. Braumon Creighton is an outstanding role model for his athletes and students. He is just as effective at training elite college wrestlers as he is at teaching beginning 5 year old wrestlers. He is an inspiration to the kids on and off the mat. He teaches how lessons learned with wrestling are applicable to life. Coach Creighton's enthusiasm is contagious among his middle school students and he has single handedly molded and guided many of these middle schoolers into elite high school and college wrestlers through his "Cregihton Way" of training.
Coach Creighton regularly brings in clinicians from all of the country through his connections in the wrestling world to train local wrestlers whether in his club or not. He has taken groups of local kids with him to the Olympic training center and generously gives these kids unbelievable opportunities. He himself is often asked to give inspirational speeches as well as wrestling clinics.
Braumon Creighton is an exceptional individual who is loved, respected and appreciated by his wrestlers and their parents alike and is most deserving to be recognized as the 2013 TOC Coaching Award winner.
Past Awards
2012 Coaches Award
ADRIAN HERNANDEZ
Adrian is from John Muir MS in Corcoran. He was instrumental in starting the Central Valley Youth Wrestling Association serving the young wrestlers throughout the Central Valley from Tehachapi through Fresno. He has served as president of the association for the past 3 years and holds monthly meetings to improve the youth wrestling throughout the area. He hosts a number of tournaments each year including one of the most successful tournaments in California, the California Republic in Lindsay. In addition to his own tournaments, Adrian is always willing to pick up the slack and host league, divisional, or Valley if someone else can't. He has grown the association into a top notch program and he truly has not only his Corcoran wrestlers but all wrestlers in the state of California best interest in mind in all that he does.
Adrian's wrestlers have been very successful at Corcoran. This year 3 kids from his feeder program advanced to the California state tournament at Corcoran High School. California state champion, Isaiah Martinez, was a product of Adrian's youth program. With all this success and accomplishments you will never see Adrian take the credit he deserves because he is such a humble person. He has always welcomed all wrestlers to an open gym. Adrian was a landslide pick from his area for the 2012 TOC Coaching Award. His fellow coaches and wrestlers were very excited just to have the opportunity to nominate him for this award because they respect, admire and appreciate him so much for all he does for their programs and the youth he serves year after year.
As one nominator said, " The TOC could find no better person from our area to honor for this prestigious award than Adrian Hernandez". We couldn't agree more.
2011 Coaches Award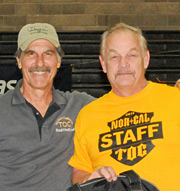 DAVE CLARKE
Dave Clarke has led the Kerr MS program in Elk Grove for many years. His teams have been extremely well coached both in wrestling skills and sportsmanship achieving many championships along the way. A tribute to his popularity and success is demonstrated by the huge numbers of kids who come out every year for Kerr's wrestling team and their competitive force both in the area and at the TOC. In addition, Dave was the coaching leader for many years in the Sacramento Area Wrestling Association and was the instrumental force in developing the current structure, by laws and consistency in the organization. Dave's hugely successful Kerr Invitational was transformed into the Sacramento Area Regional to help foster and develop programs in the Sacramento and Foothill areas. He and his staff have conducted the Elk Grove area weigh in for the TOC for many years as well.
---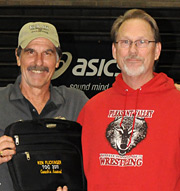 KEN FLICKINGER
Ken Flickinger has been a wrestling, football and track coach at Pleasant Valley MS ( formerly Gold Oak School) in Placerville for 30 years. He is revered among his athletes and students, parents, school administrators and fellow coaches and educators. He is highly respected by all for his integrity, coaching ethics and sportsmanship not to mention his outstanding coaching ability in the won loss column. In El Dorado County he is the dean of junior high middle school wrestling and has been for many years. Coaches look to him for advice and leadership and his teams have been a dominant force in the competition area of the sport for as long as we can remember. "Flick" and his staff have held the local league and county tournaments countless times. Ken has no peer as a positive role model for the youth and community he has served for all these years.
---
2014 Coaches Award
The 2014 TOC Coach's Award will be presented to a deserving coach from the area represented by Regions 5 or 6. Coaches and parents are encouraged to nominate your candidate for this award by submitting the name and school of the nominee and a short description outlining the reasons for his consideration for this award. Bear in mind the qualities mentioned above as competitive success is but one of the coaching qualities to consider. Send your nomination(s) to Rod Hedlund (TOC Director) at rodhedlund@gmail.com